A house from the 3D concrete printer
The development of 3D printing is rapid and is making things come true in many areas of daily life that we would not have dreamed of just a few years ago. One company that makes such visions a reality is the Austrian MAI®International GmbH. The innovative experts from Carinthia are leaders in the development of mortar mixing pumps for modern 3D concrete printing technology and are revolutionizing the Construction industry.
"We at MAI® International GmbH have been dealing with the comparatively young technology of the 3D concrete printing. This experience is continuously incorporated into the development of our user-friendly, high-performance devices for 3D concrete printing and sets standards not only in the construction industry. These are mortar mixing pumps specially adapted to 3D printing with an enormously high process reliability, which can be combined with an interface for dosing chemical admixtures, as well as for external controls and can therefore be optimally used with an industrial robot for 3D concrete printing,"Mr. Hannes Papousek, President of MAI INTERNATIONAL GMBH, explains the latest Development of the innovative company.
3D concrete printers are about to revolutionize the construction industry. More and more civil engineers and architects are relying on this innovative and targeted technology to implement their visions cost-effectively.
Layer by layer from the 3D concrete printer
In 3D concrete printing, a three-dimensional model of an object, such as a concrete wall, is first created on the computer and then physically processed by the printer layer by layer. Because of the layer approach, this manufacturing process is also referred to as "additive manufacturing". The amazing thing about it is that not only building parts or wall structures can be produced with the help of a 3D concrete printer, but even entire houses. The mortar pumps are ideally suited for this new technology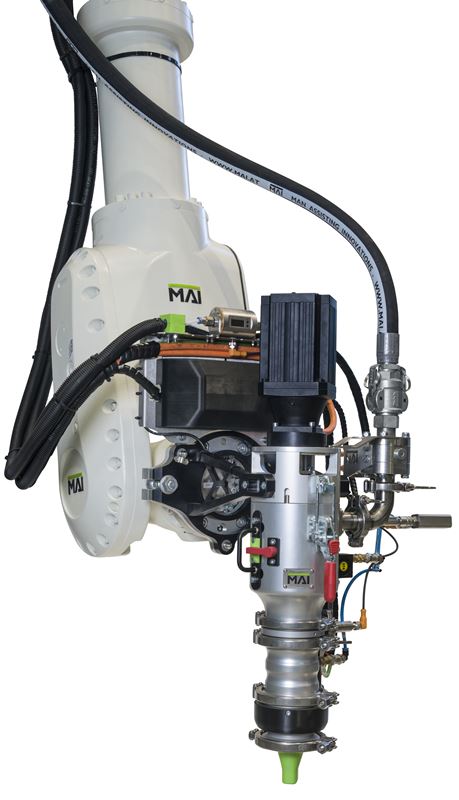 MAY®2PUMP Pictor-3D or the mortar mixing pump MAI®MULTIMIX-3D from the Austrian technology company.
MAY®2PUMP Pictor-3D
The MAI®2PUMP Pictor-3D is an exceptionally handy and powerful mortar pump with external connection for 3D concrete printing. It processes grain sizes up to 2 to 3 mm and achieves a flow rate of 0.5 to 5.0 l/min. This innovative and powerful pump in conjunction with a 3D concrete printer or a multi-axis industrial robot, can create highly solid and innovative results. Therefore, it is particularly suitable for high-resolution 3D concrete printing. Practically all machine-usable, premixed, pasty masses and mortars can be reliably processed.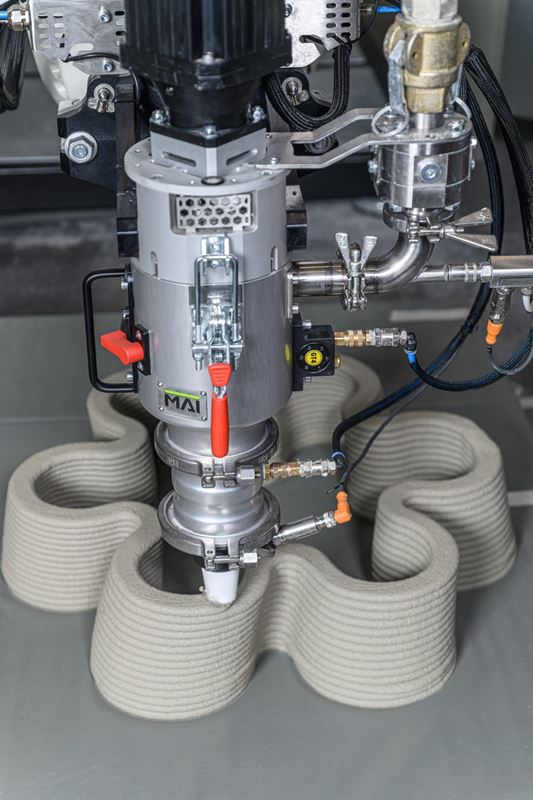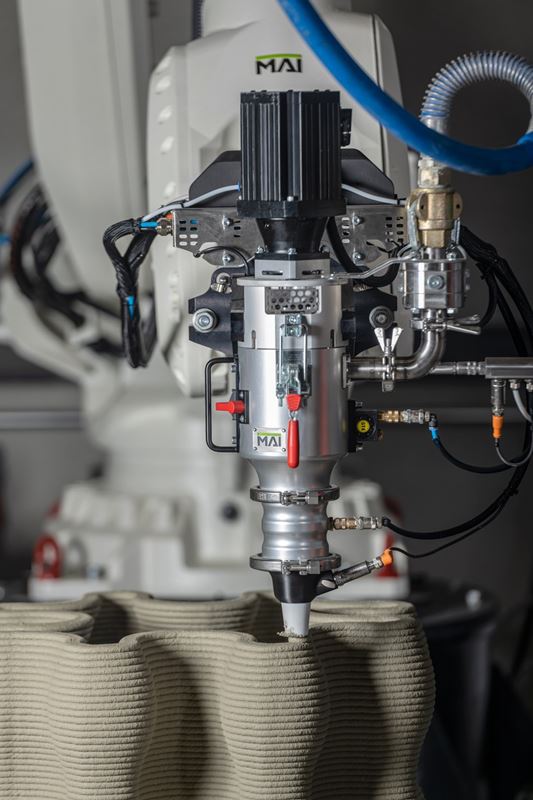 The MAI®2PUMP Pictor-3D mortar pump is often used in laboratories or by innovative startups for smaller 3D concrete printing projects that require an excellent pumping performance and the integrated interface (connected to an external control unit). The "On/Off/Return/Stop/Flow-Rate" control functions can be used to adjust the speed of the mortar pump as desired. The system is operated remotely via the provided interface.
The extremely powerful and durable MAI®2PUMP Pictor-3D mortar pump is optimally protected against wear and tear. It consists of highly wear-resistant MAI®CODUR plastic, stainless steel components and construction parts made of robust and corrosion-free hot-dip galvanized materials.
The wear resistant MAI®CODUR material makes cleaning this practical and powerful 3D pump child's play. After detaching the outlet flange, all components can be removed, cleaned and reassembled without tools.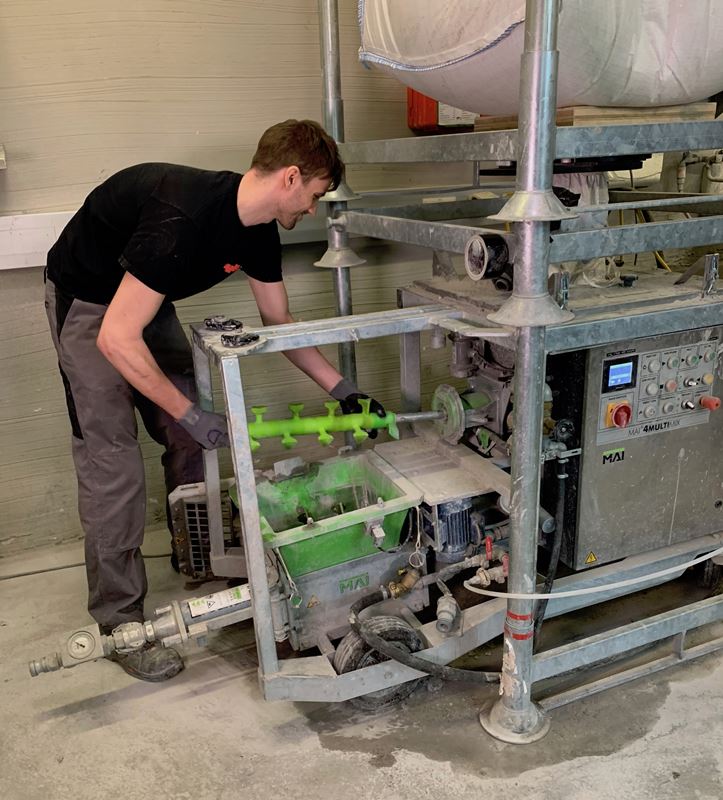 MAY®MULTIMIX-3D
The MAI®MULTIMIX-3D is a mortar mixing pump specially designed for 3D concrete printing, which, thanks to its innovative processing of water and dry material , offers an unprecedented level of process reliability and always delivers consistent material consistency. The conveying capacity of the 3D concrete printer, which can be controlled via an external interface, is 2.0 to 30.0 l/min.
In order to achieve optimal results with 3D concrete printing, the extrusion and operating speeds of the pump must be precisely matched. This is ensured on the one hand by the design of the progressive cavity pump used and, on the other hand, by the gearbox gradation of the installed drives as well as the unique concept of the patented mixing wing of the MAI®MULTIMIX-3D concrete printer. Altogether they ensure outstanding mixing results at any speed.
The operating states are constantly monitored, shown on the display and documented – in several languages. The open feed mixing principle of the mortar mixing pump enables permanent visual control of the mixing quality in the wet mortar area. Readjustment is possible at any time. The rotating agitator keeps the material in the pump hopper constantly in motion, even during breaks in work, so that the printing material can neither stiffen nor settle. The mixing pump also has an interface for the MAI dosing unit ®DOS, with the help of which chemical additives such as retardants or accelerating agents can be injected to the printing material.
The MAI®MULTIMIX-3D mixing pump enables 3D concrete printing of entire houses and is still very easy to operate. It can be loaded either from a transport silo, with a big bag or manually with bagged material. The mixing pump consists of stainless steel and hot-dip galvanized components that are extremely robust. The use of highly wear-resistant MAI®CODUR plastic enables effortless cleaning and also contributes to the durability of the 3D concrete printing mixing pump.
For more information : www.mai.at